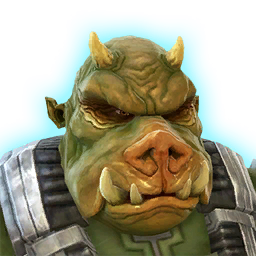 Gamorrean Guard
The Brawny Protector
Short, squat humanoids, Gamorreans are easily identifiable by their greenish skin and porcine features. On their homeworld, they live in clans, where the male boars serve exclusively as warriors while the female sows tend the day-to-day affairs like farming, raising young and crafting weapons. Known for their physical strength and endurance, Gamorreans are generally considered a species of below average intelligence. Unable to speak Basic because of their physiology, most Gamorreans are still able to comprehend it and find a place in the galactic community as soldiers, guards or mercenaries. Due to their reputation for violence and brutality, they are often employed by crime lords, gang leaders and various other criminal elements.
Attributes
NPC reference:
Gamorrean Bodyguard
Category:
Event
Equipment slots:
Main hand: melee weapon
No off-hand
No head slot
Gender:
male
Max influence rank:
50
Influence cap:
250,000
Used in conditions
This companion is referenced in the following conditions to check if the condition is met.
Gift reactions
Use gifts to increase your influence with this companion. Make sure to use gifts loved by the companion for the highest influence gain!
| Type | Reaction |
| --- | --- |
| Weapon | Love ++++ |
| Military Gear | Favorite +++ |
| Courting | Indifferent |
| Luxury | Like ++ |
| Technology | Indifferent |
| Republic Memorabilia | Indifferent |
| Imperial Memorabilia | Indifferent |
| Cultural Artifact | Indifferent |
| Trophy | Like ++ |
| Underworld Good | Love ++++ |
| Delicacies | Indifferent |
| Maintenance | Indifferent |