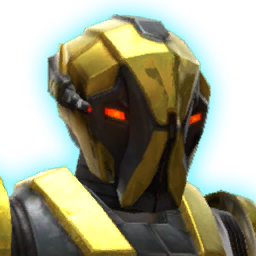 HK-55
The Loyal Bodyguard
Unlike previous HK units, the HK-55 model was designed to be a loyal bodyguard, not an assassination droid. Created specifically to combat the Eternal Empire during Arcann's invasion of the Core Worlds, HK-55 was given to Lana Beniko, then head of Sith Intelligence, for her own protection. Although programmed with etiquette protocols to fit Imperial culture, HK-55 still has a few personality-matrix quirks, including an obsession with the term "meatbag" passed down from the HK-47 model. Despite his amiable disposition, it would be a mistake to think HK-55 a less proficient killer than his counterparts.
Attributes
NPC reference:
HK-55
Category:
Main Characters
Equipment slots:
Main hand: ranged weapon
No off-hand
No outfit slots
Gender:
male
Max influence rank:
50
Influence cap:
250,000
Interactions
Here you can see how your decisions influence your companion, once their respective condition is met. Make sure to choose wisely because they will affect you later on in the story!
is_dead:


HK-55 sacrificed himself to save your life during the confrontation with Arcann on Asylum. There seems to be no hope of rebuilding him.

is_back:


Against all odds, Doctor Oggurobb managed to reassemble HK-55! Unfortunately, none of the droid's memories could be recovered, reverting him to his factory default state. Making use of Oggurobb's lab resources, you defined a new set of combat protocols for HK-55.
Used in conditions
This companion is referenced in the following conditions to check if the condition is met.
Gift reactions
Use gifts to increase your influence with this companion. Make sure to use gifts loved by the companion for the highest influence gain!
| Type | Reaction |
| --- | --- |
| Weapon | Like ++ |
| Military Gear | Love ++++ |
| Courting | Indifferent |
| Luxury | Indifferent |
| Technology | Favorite +++ |
| Republic Memorabilia | Indifferent |
| Imperial Memorabilia | Indifferent |
| Cultural Artifact | Indifferent |
| Trophy | Like ++ |
| Underworld Good | Indifferent |
| Delicacies | Indifferent |
| Maintenance | Favorite +++ |