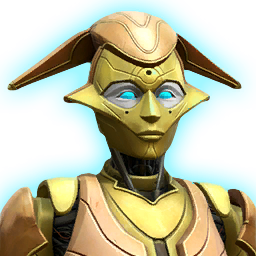 PH4-LNX
Croupier of the Battlefield
After reverse-engineering pieces of Iokath technology purchased from the galaxy's black market, the now restructured Czerka Corporation created a number of new products, including an advanced droid model designed for strategic analysis and tactical planning in complex battlefield scenarios. Although Czerka officially limited sales of the droid to military and government entities, one of the droids was "acquired" by Godoba the Hutt, a crime lord and galactic high-roller obsessed with competitive gaming.

PH4-LNX, Godoba's droid, earned many accolades, sweeping tournaments from Nar Shaddaa to Coruscant. But her appetite for battle--her "true purpose"--never waned. Putting her advanced mind toward her own goals for the first time, PH4-LNX arranged her escape from Godoba. Now an employee of the Gambling Authority and Management Entity, PH4-LNX plans her next move. Above all, she seeks a worthy employer who will allow her to fulfill her "true purpose," analyzing and implementing real-time tactical thinking in actual field combat scenarios....
Attributes
NPC reference:
PH4-LNX
Category:
Rewards
Equipment slots:
Main hand: ranged weapon
Off-hand: generator
No outfit slots
Gender:
female
Max influence rank:
50
Influence cap:
250,000
Interactions
Here you can see how your decisions influence your companion, once their respective condition is met. Make sure to choose wisely because they will affect you later on in the story!
Used in conditions
This companion is referenced in the following conditions to check if the condition is met.
Gift reactions
Use gifts to increase your influence with this companion. Make sure to use gifts loved by the companion for the highest influence gain!
| Type | Reaction |
| --- | --- |
| Weapon | Indifferent |
| Military Gear | Indifferent |
| Courting | Indifferent |
| Luxury | Indifferent |
| Technology | Indifferent |
| Republic Memorabilia | Indifferent |
| Imperial Memorabilia | Indifferent |
| Cultural Artifact | Indifferent |
| Trophy | Indifferent |
| Underworld Good | Indifferent |
| Delicacies | Indifferent |
| Maintenance | Indifferent |