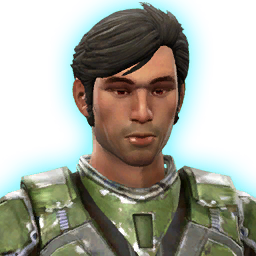 Rass Ordo
The Younger Ordo
Trained as a Mandalorian alongside his older siblings, Rass showed a gift for combat and a friendly manner that made him popular with his fellow warriors. Known for his sense of humor, bravery and fierce loyalty, Rass was marked early as a future leader.

While Rass can be reckless in his pursuit of mission goals, his long list of victories for the Republic, Empire and private interests has solidified his reputation as a dependable soldier capable of keeping galactic politics out of his work and staying focused on the task at hand.

With the loss of his sister, Rass has grown closer to his older brother, Jekiah. They are often seen together between assignments.

Likes: Dry humor, Mandalorian history, courage.
Dislikes: Cowardice, excuses, cruelty.
Attributes
NPC reference:
Rass Ordo
Category:
Alliance
Equipment slots:
Main hand: ranged weapon
No off-hand
No outfit slots
Gender:
female
Max influence rank:
25
Influence cap:
62,500
Gift reactions
Use gifts to increase your influence with this companion. Make sure to use gifts loved by the companion for the highest influence gain!
| Type | Reaction |
| --- | --- |
| Weapon | Favorite +++ |
| Military Gear | Love ++++ |
| Courting | Like ++ |
| Luxury | Indifferent |
| Technology | Like ++ |
| Republic Memorabilia | Indifferent |
| Imperial Memorabilia | Love ++++ |
| Cultural Artifact | Indifferent |
| Trophy | Like ++ |
| Underworld Good | Indifferent |
| Delicacies | Indifferent |
| Maintenance | Indifferent |