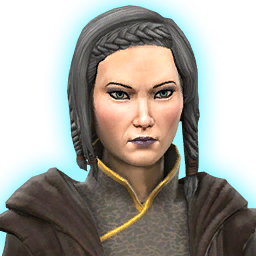 Satele Shan
The Jedi Order Grandmaster
Grand Master of the Jedi Order and leader of the Jedi Council, Satele Shan was born on the Core World of Brentaal Four and is descended from legendary Jedi Bastila Shan. Both a gifted warrior and wise teacher, Satele was personally responsible for rediscovering Tython and its hyperspace route. Ever since, she has devoted herself to the Jedi resettlement of Tython and the revitalization of the order.

Satele has played a key role in recent galactic history in other ways, as well. She fought on the front lines of several major battles--including the battles of Alderaan and Rhen Var--and was present as a Padawan during the Imperial retaking of Korriban, the first modern contact between the Sith Empire and the Republic. She is greatly respected by certain members of the Republic military, and her advice is often sought by the Supreme Chancellor. In person, Satele's strength in the Force is matched with a keen intelligence and a subtle sense of humor.

When the Republic bowed to the Eternal Empire, Grand Master Satele Shan renounced her title and vanished. Though there exists no official record of her whereabouts or actions following her disappearance, possible sightings have led to strange speculation.
Attributes
NPC reference:
Satele Shan
Category:
Alliance
Equipment slots:
Main hand: melee weapon
No off-hand
No outfit slots
Gender:
female
Max influence rank:
50
Influence cap:
250,000
Gift reactions
Use gifts to increase your influence with this companion. Make sure to use gifts loved by the companion for the highest influence gain!
| Type | Reaction |
| --- | --- |
| Weapon | Like ++ |
| Military Gear | Indifferent |
| Courting | Favorite +++ |
| Luxury | Love ++++ |
| Technology | Like ++ |
| Republic Memorabilia | Indifferent |
| Imperial Memorabilia | Indifferent |
| Cultural Artifact | Favorite +++ |
| Trophy | Indifferent |
| Underworld Good | Like ++ |
| Delicacies | Love ++++ |
| Maintenance | Indifferent |