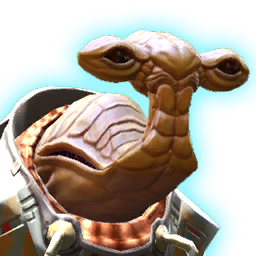 Choza Raabat
The Jedi Castaway
Two years before the Republic and Empire broke the Treaty of Coruscant and resumed open war, Ithorian Jedi Knight Choza Rabaat embarked on a scouting mission into Wild Space. His vessel and astromech droid were destroyed in a crash that Choza barely escaped. He found himself marooned on an uncharted and uninhabited world, where he survived alone for ten long years.

Choza would still be there if a patrol ship from Zakuul hadn't set down to survey the planet. When the crew opened fire on him for the crime of introducing himself and requesting rescue, he was forced to incapacitate them and commandeer their vessel. He returned to the Core Worlds after a lengthy interrogation of his prisoners that caught him up on a decade of history. Now he serves the Alliance to overthrow Emperor Arcann and restore freedom to the galaxy.
Attributes
NPC reference:
Choza Raabat
Category:
Star Fortress
Equipment slots:
Main hand: melee weapon
No off-hand
No outfit slots
Gender:
male
Max influence rank:
50
Influence cap:
250,000
Alerts
This companion will have the following missions available for you as soon as their condition is met.
Travel to companion
If you meet this condition, you'll be able to travel to this companion at the given location.
Interactions
Here you can see how your decisions influence your companion, once their respective condition is met. Make sure to choose wisely because they will affect you later on in the story!
Used in conditions
This companion is referenced in the following conditions to check if the condition is met.
Gift reactions
Use gifts to increase your influence with this companion. Make sure to use gifts loved by the companion for the highest influence gain!
| Type | Reaction |
| --- | --- |
| Weapon | Indifferent |
| Military Gear | Indifferent |
| Courting | Indifferent |
| Luxury | Indifferent |
| Technology | Favorite +++ |
| Republic Memorabilia | Love ++++ |
| Imperial Memorabilia | Indifferent |
| Cultural Artifact | Favorite +++ |
| Trophy | Indifferent |
| Underworld Good | Indifferent |
| Delicacies | Like ++ |
| Maintenance | Indifferent |