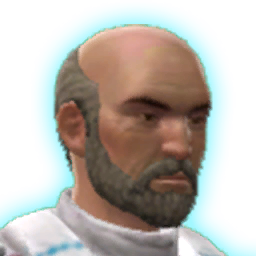 Eckard Lokin
The Rakghoul Scientist
Doctor Eckard Lokin is a man of many secrets. While it's known he worked with Imperial Intelligence during Operation: Red Cell, there's very little concrete information on Lokin before the Great Galactic War. He found his true calling researching the rakghoul plague on Taris. In one of his experiments, Lokin used himself as a test subject and introduced a variant of the virus into his own DNA--giving him the ability to take rakghoul form.

Lokin left Taris with Imperial Agent Cipher Nine to become the Cipher's doctor and continue his research on the rakghoul virus in hopes to improve the stability of his rakghoul form. When Cipher Nine vanished at the start of the war against Zakuul, Lokin decided it was time to officially retire and has spent the last few years in the Alderaanian countryside.
Attributes
NPC reference:
Eckard Lokin
Category:
As a contact: Alliance Recruit
As a companion: Alliance
Equipment slots:
Main hand: ranged weapon
No off-hand
Gender:
male
Max influence rank:
50
Influence cap:
250,000
Travel to companion
If you meet this condition, you'll be able to travel to this companion at the given location.
Interactions
Here you can see how your decisions influence your companion, once their respective condition is met. Make sure to choose wisely because they will affect you later on in the story!
Used in conditions
This companion is referenced in the following conditions to check if the condition is met.
Gift reactions
Use gifts to increase your influence with this companion. Make sure to use gifts loved by the companion for the highest influence gain!
| Type | Reaction |
| --- | --- |
| Weapon | Indifferent |
| Military Gear | Favorite +++ |
| Courting | Indifferent |
| Luxury | Favorite +++ |
| Technology | Love ++++ |
| Republic Memorabilia | Like ++ |
| Imperial Memorabilia | Love ++++ |
| Cultural Artifact | Indifferent |
| Trophy | Indifferent |
| Underworld Good | Like ++ |
| Delicacies | Indifferent |
| Maintenance | Indifferent |