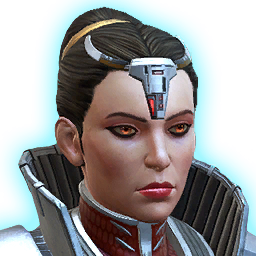 Empress Acina
The Wisest of the Sith
While the rest of the Dark Council fought the Eternal Empire--and each other--Darth Acina was smart enough to step aside and patiently wait for the right moment to make her move. When she saw the opportunity to side with Arcann to ensure the survival of her people, she took it. Similarly, when the rise of the Outlander's Alliance offered her a chance to break free from Zakuul, she acted quickly. Recognizing their common interests, Acina seeks a partnership that will usher in a new era of mutually beneficial coexistence.
Attributes
NPC reference:
Empress Acina
Category:
Chapters
Equipment slots:
Main hand: melee weapon
No off-hand
No outfit slots
Gender:
female
Max influence rank:
50
Influence cap:
250,000
Interactions
Here you can see how your decisions influence your companion, once their respective condition is met. Make sure to choose wisely because they will affect you later on in the story!
Used in conditions
This companion is referenced in the following conditions to check if the condition is met.
Gift reactions
Use gifts to increase your influence with this companion. Make sure to use gifts loved by the companion for the highest influence gain!
| Type | Reaction |
| --- | --- |
| Weapon | Indifferent |
| Military Gear | Indifferent |
| Courting | Indifferent |
| Luxury | Indifferent |
| Technology | Like ++ |
| Republic Memorabilia | Indifferent |
| Imperial Memorabilia | Favorite +++ |
| Cultural Artifact | Love ++++ |
| Trophy | Like ++ |
| Underworld Good | Indifferent |
| Delicacies | Favorite +++ |
| Maintenance | Indifferent |