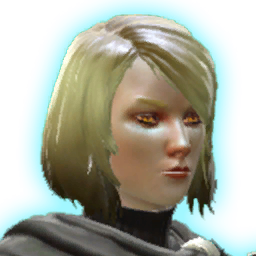 Lana Beniko
The Dark Advisor
With her serene and considerate manner, Lana Beniko might be mistaken for a Jedi. However, she is a Sith Lord of great wisdom and strength who has impressed many of her peers with her keen insights into the nature of the Force.

With the Revanite plot thwarted, Darth Marr recognized Lana's talents and appointed her head of Sith Intelligence. Unfortunately, her first assignment as minister ended in disaster when the Sith Emperor consumed all life on Ziost. Since Arcann's rise to power, she has been on the run, devising a plan to find the one person who can return order to the galaxy....
Attributes
NPC reference:
Lana Beniko
Category:
Chapters
Equipment slots:
Main hand: melee weapon
No off-hand
Gender:
female
Max influence rank:
50
Influence cap:
250,000
Alerts
This companion will have the following missions available for you as soon as their condition is met.
Travel to companion
If you meet this condition, you'll be able to travel to this companion at the given location.
Interactions
Here you can see how your decisions influence your companion, once their respective condition is met. Make sure to choose wisely because they will affect you later on in the story!
Used in conditions
This companion is referenced in the following conditions to check if the condition is met.
Gift reactions
Use gifts to increase your influence with this companion. Make sure to use gifts loved by the companion for the highest influence gain!
| Type | Reaction |
| --- | --- |
| Weapon | Indifferent |
| Military Gear | Indifferent |
| Courting | Indifferent |
| Luxury | Indifferent |
| Technology | Like ++ |
| Republic Memorabilia | Indifferent |
| Imperial Memorabilia | Favorite +++ |
| Cultural Artifact | Love ++++ |
| Trophy | Like ++ |
| Underworld Good | Indifferent |
| Delicacies | Favorite +++ |
| Maintenance | Indifferent |