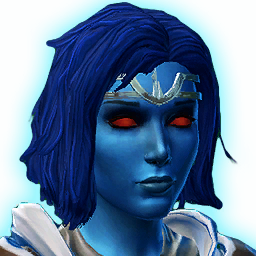 Master Ranos
The Jedi Maverick
Master Ranos has always walked her own path, turning her back on the Jedi Council to follow what she calls "the will of the Force." A true champion of the light side, her journey led her to the farthest reaches of the galaxy, where she used her formidable skills to serve and protect those on the dangerous frontiers of galactic civilization. But now the Force has given her a new purpose: join the Outlander's Alliance in their battle against the Eternal Empire.
Attributes
NPC reference:
Master Ranos
Category:
Rewards
Equipment slots:
Main hand: melee weapon
Off-hand: melee weapon
Gender:
female
Max influence rank:
50
Influence cap:
250,000
Travel to companion
If you meet this condition, you'll be able to travel to this companion at the given location.
| Condition | Travel location |
| --- | --- |
| travel_to | 4611686303496684003 |
Used in conditions
This companion is referenced in the following conditions to check if the condition is met.
Gift reactions
Use gifts to increase your influence with this companion. Make sure to use gifts loved by the companion for the highest influence gain!
| Type | Reaction | Romanced reaction |
| --- | --- | --- |
| Weapon | Indifferent | |
| Military Gear | Like ++ | |
| Courting | Like ++ | Favorite +++ |
| Luxury | Favorite +++ | Love ++++ |
| Technology | Like ++ | |
| Republic Memorabilia | Love ++++ | |
| Imperial Memorabilia | Like ++ | |
| Cultural Artifact | Like ++ | |
| Trophy | Like ++ | |
| Underworld Good | Like ++ | Favorite +++ |
| Delicacies | Indifferent | |
| Maintenance | Indifferent | |