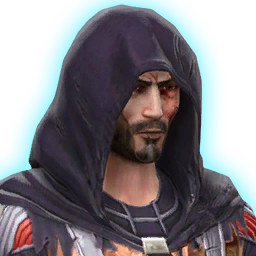 Revan
A Legend in the Force
Hundreds of years ago, the Jedi later known as Revan defied the Council and led an army of other Jedi to war against the Mandalorians, becoming a hero to the Galactic Republic. But that victory came at a terrible cost; consumed with the fever of battle, he fell to darkness under the influence of the Sith Emperor Vitiate and returned to the galaxy as Darth Revan, leading an armada of Sith warriors against the Republic. Eventually, he was betrayed by his apprentice and healed by the enclave of Dantooine, and has been waging a centuries-long campaign to defeat Vitiate ever since. Even death has not ended his commitment to this cause, as his spirit still acts to guide former allies and enemies alike in the pursuit of his eternal enemy's ultimate destruction.
Attributes
NPC reference:
Revan
Category:
Alliance
Equipment slots:
Main hand: melee weapon
Off-hand: melee weapon
Gender:
male
Max influence rank:
50
Influence cap:
250,000
Gift reactions
Use gifts to increase your influence with this companion. Make sure to use gifts loved by the companion for the highest influence gain!
| Type | Reaction |
| --- | --- |
| Weapon | Like ++ |
| Military Gear | Like ++ |
| Courting | Indifferent |
| Luxury | Indifferent |
| Technology | Love ++++ |
| Republic Memorabilia | Indifferent |
| Imperial Memorabilia | Love ++++ |
| Cultural Artifact | Indifferent |
| Trophy | Favorite +++ |
| Underworld Good | Indifferent |
| Delicacies | Indifferent |
| Maintenance | Indifferent |