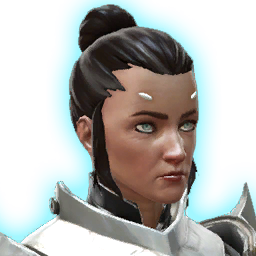 Senya Tirall
The Vengeful Enforcer
A former Knight of Zakuul, Senya Tirall is a complex individual. Cold and unyielding on the job, kind and empathetic in private, Senya was responsible for hunting Koth Vortena and his crew after they betrayed the Eternal Empire. But Senya eventually came to recognize the same injustices in Arcann's rule that Koth had, and chose to uphold her ideals over her Emperor. After making contact with Lana Beniko, Senya joined the mission to overthrow Arcann and return peace and justice to the galaxy.
Attributes
NPC reference:
Senya Tirall
Category:
Chapters
Equipment slots:
Main hand: melee weapon
No off-hand
Gender:
female
Max influence rank:
50
Influence cap:
250,000
Interactions
Here you can see how your decisions influence your companion, once their respective condition is met. Make sure to choose wisely because they will affect you later on in the story!
Used in conditions
This companion is referenced in the following conditions to check if the condition is met.
Gift reactions
Use gifts to increase your influence with this companion. Make sure to use gifts loved by the companion for the highest influence gain!
| Type | Reaction |
| --- | --- |
| Weapon | Indifferent |
| Military Gear | Like ++ |
| Courting | Indifferent |
| Luxury | Love ++++ |
| Technology | Indifferent |
| Republic Memorabilia | Indifferent |
| Imperial Memorabilia | Indifferent |
| Cultural Artifact | Favorite +++ |
| Trophy | Indifferent |
| Underworld Good | Indifferent |
| Delicacies | Like ++ |
| Maintenance | Indifferent |