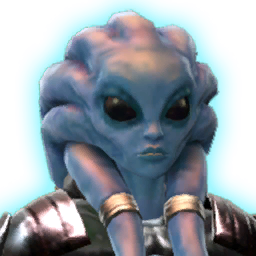 Veeroa Denz
The Sith Refugee
Many Sith have perished while defending their homeworlds from the Eternal Empire's forces, but others have taken the opportunity to create new lives elsewhere. One such person is Veeroa Denz, a Nautolan slave whose Force sensitivity saw her thrown into the harsh acolyte training on Korriban. She survived her trials and a cruel overseer only to become a target of Zakuul's soldiers when they stormed the Sith Academy. She escaped the slaughter with a bit of luck and a well-timed betrayal of her overseer and fled to Nar Shaddaa to start a new life.

Veeroa embraced the unlimited freedom of the Smuggler's Moon, offering help to other fugitives whose Force sensitivity had made them targets of the Eternal Empire's ruthless advance. Eventually, those armies arrived in orbit around Nar Shaddaa as well, and Veeroa saw her new home become a prison. She has sworn to aid the Alliance only until Zakuul is vanquished, after which she plans to resume her quiet life of freedom in the shadows.
Attributes
NPC reference:
Veeroa Denz
Category:
Star Fortress
Equipment slots:
Main hand: melee weapon
Off-hand: melee weapon
No outfit slots
Gender:
female
Max influence rank:
50
Influence cap:
250,000
Alerts
This companion will have the following missions available for you as soon as their condition is met.
Travel to companion
If you meet this condition, you'll be able to travel to this companion at the given location.
Interactions
Here you can see how your decisions influence your companion, once their respective condition is met. Make sure to choose wisely because they will affect you later on in the story!
Used in conditions
This companion is referenced in the following conditions to check if the condition is met.
Gift reactions
Use gifts to increase your influence with this companion. Make sure to use gifts loved by the companion for the highest influence gain!
| Type | Reaction |
| --- | --- |
| Weapon | Favorite +++ |
| Military Gear | Indifferent |
| Courting | Indifferent |
| Luxury | Favorite +++ |
| Technology | Indifferent |
| Republic Memorabilia | Indifferent |
| Imperial Memorabilia | Love ++++ |
| Cultural Artifact | Indifferent |
| Trophy | Like ++ |
| Underworld Good | Love ++++ |
| Delicacies | Indifferent |
| Maintenance | Indifferent |