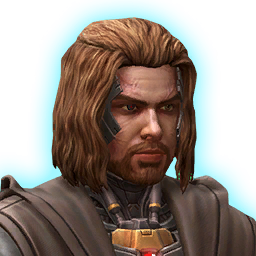 Arn Peralun
The Damaged Padawan
Severely wounded by artillery fire while he was still a padawan, Arn Peralun has only recently returned to complete his training as a Jedi. Like his master, Tau Idair, Arn struggles with his place among the Jedi, even as he remains determined to become the heroic protector of the peace that he has always aspired to be.
Attributes
NPC reference:
Arn Peralun
Category:
Onslaught
Equipment slots:
Main hand: melee weapon
No off-hand
No outfit slots
Gender:
male
Max influence rank:
25
Influence cap:
62,500
Gift reactions
Use gifts to increase your influence with this companion. Make sure to use gifts loved by the companion for the highest influence gain!
| Type | Reaction |
| --- | --- |
| Weapon | Like ++ |
| Military Gear | Like ++ |
| Courting | Indifferent |
| Luxury | Indifferent |
| Technology | Love ++++ |
| Republic Memorabilia | Indifferent |
| Imperial Memorabilia | Love ++++ |
| Cultural Artifact | Indifferent |
| Trophy | Favorite +++ |
| Underworld Good | Indifferent |
| Delicacies | Indifferent |
| Maintenance | Indifferent |