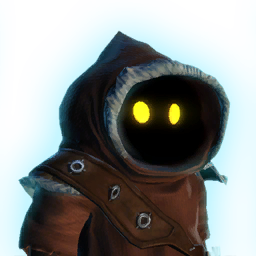 Blizz
Infinitely curious and adventuresome, Blizz always felt confined on his native Tatooine--the endless rolling dunes and limited selection of scrap leaving him perpetually bored. So when the traveling salvager Slam Streever visited Blizz's clan to offer Jawas work as "ferrets"--individuals he could send into dangerous and dilapidated areas to scout for salvage treasure--Blizz leapt at the opportunity.

Blizz spent several years with Slam's crew before the old scrapper made the mistake of selling his services to Hoth's White Maw pirates. Years of toil under the menacing watch of the White Maw would soon deprive the salvagers of reasons to smile--but first, Slam gave his small friend the nickname "Blizz" after the little Jawa kicked up a snowstorm of excitement during his first encounter with the "white sands." It's a name Blizz cherishes; one that reminds him of happier times.

Likes: Adventure, gadgets, attention, praise, friendship
Dislikes: Scary things, extreme violence, people who are mean to him
Attributes
NPC reference:
Blizz
Category:
As a contact: Unavailable Companions
As a companion: 3599878378750249
Equipment slots:
Main hand: ranged weapon
No off-hand
No outfit slots
Gender:
male
Max influence rank:
50
Influence cap:
250,000
Metadata
Added with:
Patch 4.0.0
Global ID:
16141061857250165261
FQN:
nco.​companions_original.​bounty_hunter.​blizz
Star Wars name:
Blizz
Other languages:
Blizz
Blizz
Other sites:
TORCommunity
Travel to companion
If you meet this condition, you'll be able to travel to this companion at the given location.
Used in conditions
This companion is referenced in the following conditions to check if the condition is met.
Gift reactions
Use gifts to increase your influence with this companion. Make sure to use gifts loved by the companion for the highest influence gain!
| Type | Reaction |
| --- | --- |
| Weapon | Favorite +++ |
| Military Gear | Favorite +++ |
| Courting | Indifferent |
| Luxury | Favorite +++ |
| Technology | Love ++++ |
| Republic Memorabilia | Favorite +++ |
| Imperial Memorabilia | Favorite +++ |
| Cultural Artifact | Favorite +++ |
| Trophy | Favorite +++ |
| Underworld Good | Love ++++ |
| Delicacies | Indifferent |
| Maintenance | Indifferent |
Appearance