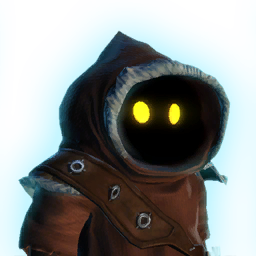 Blizz
The Jawa Salvage Runner
Infinitely curious and adventurous, Blizz always felt confined on his native Tatooine, bored by the endless rolling dunes and limited selection of scrap. So when the traveling salvager Slam Streever visited Blizz's clan to offer Jawas work as "ferrets" on exotic salvage missions, Blizz leapt at the opportunity. He spent several years with Slam's crew, and later with the White Maw pirates, before being imprisoned by the Chiss Ascendancy on Hoth. When the Grand Champion of the Great Hunt freed Blizz from his cell, he vowed to follow his new friend and prove himself useful.
After the Grand Champion's disappearance, Blizz returned to Hoth to form a crew of his own, hunting bounties and salvage with his usual enthusiasm.
Attributes
NPC reference:
Blizz
Category:
As a contact: Alliance Recruit
As a companion: Alliance
Equipment slots:
Main hand: ranged weapon
No off-hand
No outfit slots
Gender:
male
Max influence rank:
50
Influence cap:
250,000
Travel to companion
If you meet this condition, you'll be able to travel to this companion at the given location.
Interactions
Here you can see how your decisions influence your companion, once their respective condition is met. Make sure to choose wisely because they will affect you later on in the story!
Used in conditions
This companion is referenced in the following conditions to check if the condition is met.
Gift reactions
Use gifts to increase your influence with this companion. Make sure to use gifts loved by the companion for the highest influence gain!
| Type | Reaction |
| --- | --- |
| Weapon | Favorite +++ |
| Military Gear | Favorite +++ |
| Courting | Indifferent |
| Luxury | Favorite +++ |
| Technology | Love ++++ |
| Republic Memorabilia | Favorite +++ |
| Imperial Memorabilia | Favorite +++ |
| Cultural Artifact | Favorite +++ |
| Trophy | Favorite +++ |
| Underworld Good | Love ++++ |
| Delicacies | Indifferent |
| Maintenance | Indifferent |