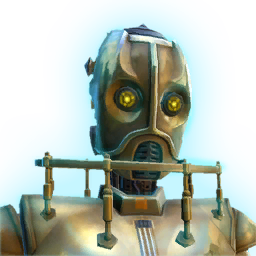 C2-N2
Foremost Authority on Comfort
C2-N2 is a model of gentlemanly manners and polite efficiency. A Hollis-series steward droid that served one of the Republic's most famous heroes, he will do everything in his considerable programming power to ensure that his master's starship always maintains the proper air of respectability. This includes high-powered dusting capabilities, monitoring the crew's caloric intake and a selection of aromas from across the galaxy to satisfy even the pickiest of noses.
Attributes
NPC reference:
C2-N2
Category:
As a contact: Unavailable Companions
As a companion: Alliance
Equipment slots:
Main hand: ranged weapon
No off-hand
No outfit slots
Gender:
male
Max influence rank:
50
Influence cap:
250,000
Travel to companion
If you meet this condition, you'll be able to travel to this companion at the given location.
Interactions
Here you can see how your decisions influence your companion, once their respective condition is met. Make sure to choose wisely because they will affect you later on in the story!
Used in conditions
This companion is referenced in the following conditions to check if the condition is met.
Gift reactions
Use gifts to increase your influence with this companion. Make sure to use gifts loved by the companion for the highest influence gain!
| Type | Reaction |
| --- | --- |
| Weapon | Indifferent |
| Military Gear | Indifferent |
| Courting | Indifferent |
| Luxury | Like ++ |
| Technology | Favorite +++ |
| Republic Memorabilia | Like ++ |
| Imperial Memorabilia | Indifferent |
| Cultural Artifact | Love ++++ |
| Trophy | Indifferent |
| Underworld Good | Indifferent |
| Delicacies | Indifferent |
| Maintenance | Love ++++ |
Appearance