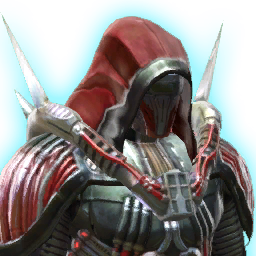 Darth Marr
The Empire's Defender
One of the longest-serving members of the Dark Council, Darth Marr is a terrifying warrior and a true believer in the Sith Code. In the early days of the Great Galactic War, he seized world after world for the expanding Empire and gained a reputation for personally leading charges against Republic defenders. However, once the Empire had established its power and the war began to drag on, Marr found fewer opportunities to directly engage in the fray--a situation that embittered the Sith Lord.

Since the demise of Darth Malgus, Marr has become the unofficial leader of the Dark Council. Disgusted by the infighting that plagues the Sith, he's gone to great lengths to promote pragmatism and even brokered a temporary alliance with the Republic to defeat Revan on Yavin 4. While some Council members may disagree with Marr's methods, none doubt that his highest priority is the Empire's best interests.
Attributes
NPC reference:
Darth Marr
Category:
Main Characters
Equipment slots:
Main hand: melee weapon
No off-hand
No outfit slots
Gender:
male
Max influence rank:
50
Influence cap:
250,000
Interactions
Here you can see how your decisions influence your companion, once their respective condition is met. Make sure to choose wisely because they will affect you later on in the story!
ep_01_marr_guest:


You have joined forces with Darth Marr to repel the unknown forces invading his ship.

ep_01_marr_was_guest:


You joined forces with Darth Marr on his ship while it was under attack by Eternal Empire forces.

ep_01_post:


Darth Marr was killed by the Immortal Emperor Valkorion for refusing to kneel and acknowledge his power.
Used in conditions
This companion is referenced in the following conditions to check if the condition is met.
Gift reactions
Use gifts to increase your influence with this companion. Make sure to use gifts loved by the companion for the highest influence gain!
| Type | Reaction |
| --- | --- |
| Weapon | Like ++ |
| Military Gear | Like ++ |
| Courting | Indifferent |
| Luxury | Indifferent |
| Technology | Love ++++ |
| Republic Memorabilia | Indifferent |
| Imperial Memorabilia | Love ++++ |
| Cultural Artifact | Indifferent |
| Trophy | Favorite +++ |
| Underworld Good | Indifferent |
| Delicacies | Indifferent |
| Maintenance | Indifferent |
Appearance