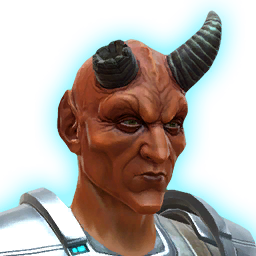 Gault Rennow
The Scoundrel
Formerly the notorious smuggler and confidence man Tyresius Lokai, Gault Rennow briefly enjoyed a relatively paranoia-free lifestyle as an unknown gun-for-hire. But old habits are hard to shake, and Gault soon found himself a target of the Grand Champion of the Great Hunt. After convincing the infamous bounty hunter to spare him, he joined the Grand Champion as a right-hand man.

When his new employer mysteriously vanished, Gault went back to doing what he does best: making money and getting into trouble. With his new partner Vette, he racked up a brand-new list of offenses and enemies. He currently maintains a tumultuous relationship with the infamous smuggler Hylo Visz.
Attributes
NPC reference:
Gault
Category:
Chapters
Equipment slots:
Main hand: ranged weapon
No off-hand
Gender:
male
Max influence rank:
50
Influence cap:
250,000
Gift reactions
Use gifts to increase your influence with this companion. Make sure to use gifts loved by the companion for the highest influence gain!
| Type | Reaction |
| --- | --- |
| Weapon | Like ++ |
| Military Gear | Indifferent |
| Courting | Indifferent |
| Luxury | Love ++++ |
| Technology | Like ++ |
| Republic Memorabilia | Indifferent |
| Imperial Memorabilia | Indifferent |
| Cultural Artifact | Like ++ |
| Trophy | Indifferent |
| Underworld Good | Favorite +++ |
| Delicacies | Indifferent |
| Maintenance | Indifferent |