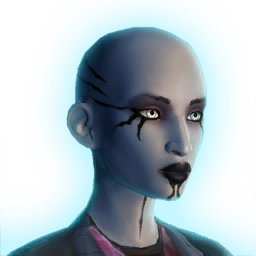 Kaliyo Djannis
The Self-Serving Anarchist
Prizing freedom and anarchy above all, Kaliyo Djannis has always done precisely what she wants. She spent her adult life jumping between unsavory jobs, including for the Hutt Cartel and the Exchange. Willing to lie, cheat, and steal to get her way, she racked up a long list of enemies and ex-lovers. When Cipher Nine landed on Hutta to make a deal with Nem'ro the Hutt, Kaliyo temporarily put everything aside to join the agent and work with Imperial Intelligence.
After Cipher Nine's disappearance, Kaliyo went back to freelancing around the galaxy. When she eventually grew bored, she landed on Zakuul and began targeting government and civilian buildings in terrorist bombings. Her activities drew the citizenry's attention, earning her the nickname "Firebrand" and sparking the first real flames of rebellion.
Attributes
NPC reference:
Kaliyo Djannis
Category:
Chapters
Equipment slots:
Main hand: ranged weapon
No off-hand
Gender:
female
Max influence rank:
50
Influence cap:
250,000
Interactions
Here you can see how your decisions influence your companion, once their respective condition is met. Make sure to choose wisely because they will affect you later on in the story!
Used in conditions
This companion is referenced in the following conditions to check if the condition is met.
Gift reactions
Use gifts to increase your influence with this companion. Make sure to use gifts loved by the companion for the highest influence gain!
| Type | Reaction | Romanced reaction |
| --- | --- | --- |
| Weapon | Love ++++ | |
| Military Gear | Like ++ | |
| Courting | Indifferent | |
| Luxury | Favorite +++ | Love ++++ |
| Technology | Like ++ | |
| Republic Memorabilia | Indifferent | |
| Imperial Memorabilia | Indifferent | |
| Cultural Artifact | Indifferent | |
| Trophy | Indifferent | |
| Underworld Good | Favorite +++ | |
| Delicacies | Indifferent | |
| Maintenance | Indifferent | |