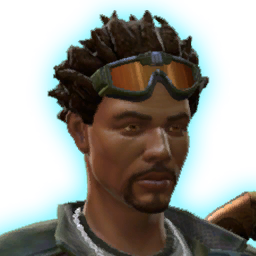 Koth Vortena
The Exiled Officer
Koth Vortena is a former captain in the Zakuulan military who defected with his crew when he was ordered to kill civilians. While on the run from Zakuul Knights, he met Lana Beniko, and the two began plotting to dethrone Emperor Arcann. With Lana's prowess as a Sith Lord and Koth's skills in the pilot seat, the two became a formidable thorn in the Eternal Empire's side--eventually breaking out the legendary Outlander accused of assassinating Valkorion. A proud Zakuulan, Koth has high hopes for the future of his homeworld and longs for the days of peace and prosperity under Valkorion's reign.
Attributes
NPC reference:
Koth Vortena
Category:
Chapters
Equipment slots:
Main hand: ranged weapon
No off-hand
Gender:
male
Max influence rank:
50
Influence cap:
250,000
Interactions
Here you can see how your decisions influence your companion, once their respective condition is met. Make sure to choose wisely because they will affect you later on in the story!
Used in conditions
This companion is referenced in the following conditions to check if the condition is met.
Gift reactions
Use gifts to increase your influence with this companion. Make sure to use gifts loved by the companion for the highest influence gain!
| Type | Reaction |
| --- | --- |
| Weapon | Love ++++ |
| Military Gear | Like ++ |
| Courting | Indifferent |
| Luxury | Indifferent |
| Technology | Favorite +++ |
| Republic Memorabilia | Indifferent |
| Imperial Memorabilia | Indifferent |
| Cultural Artifact | Like ++ |
| Trophy | Indifferent |
| Underworld Good | Favorite +++ |
| Delicacies | Love ++++ |
| Maintenance | Indifferent |