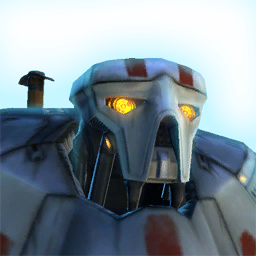 M1-4X
Booming Vocoder of Freedom
M1-4X is a highly advanced war droid designed and built specifically to serve in Havoc Squad. As such, his engineers programmed him to be a perfect soldier: completely loyal, fervently patriotic, and willing and eager to go to any length or face any risk to destroy the Republic's enemies. M1-4X's armor plating, weapons systems and processing power are significantly advanced over typical military droid standards, due in large part to his unusual power core. Constructed by an unknown organization, the core was recovered during a classified operation and has output capabilities far beyond conventional models.

After his commanding officer went missing in action, M1-4X's boisterous patriotism made him a perfect fit for the press corps, where he continued his work on improving soldiers' morale. His fiery speeches and heroic tales from Havoc Squad has made M1-4X a legend among the Republic ranks. Not one to let fame go to his circuits, M1-4X's only comment on his newfound notoriety is simply, "All in a day's work!"
Attributes
NPC reference:
M1-4X
Category:
As a contact: Alliance Recruit
As a companion: Alliance
Equipment slots:
Main hand: ranged weapon
No off-hand
No outfit slots
Gender:
male
Max influence rank:
50
Influence cap:
250,000
Travel to companion
If you meet this condition, you'll be able to travel to this companion at the given location.
Interactions
Here you can see how your decisions influence your companion, once their respective condition is met. Make sure to choose wisely because they will affect you later on in the story!
interaction_01:


You found M1-4X on Coruscant. You convinced M1-4X to join your alliance through victories against the Empire.

interaction_02:


You found M1-4X on Coruscant. You convinced M1-4X to your alliance.
Used in conditions
This companion is referenced in the following conditions to check if the condition is met.
Gift reactions
Use gifts to increase your influence with this companion. Make sure to use gifts loved by the companion for the highest influence gain!
| Type | Reaction |
| --- | --- |
| Weapon | Like ++ |
| Military Gear | Favorite +++ |
| Courting | Like ++ |
| Luxury | Like ++ |
| Technology | Favorite +++ |
| Republic Memorabilia | Love ++++ |
| Imperial Memorabilia | Indifferent |
| Cultural Artifact | Like ++ |
| Trophy | Like ++ |
| Underworld Good | Indifferent |
| Delicacies | Indifferent |
| Maintenance | Favorite +++ |
Appearance