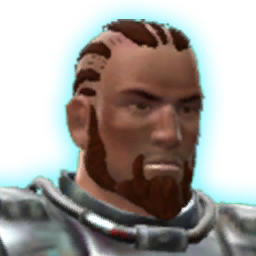 Major Pierce
The Reckless Specialist
While few who are not Force sensitive in the Empire have any choice but to join the military, Lieutenant Pierce joined eagerly--not out of a sense of duty but out of a lust for action. In fact, although his soldiering and bravery are beyond question, he has faced resistance and scrutiny throughout his military career due to his occasionally reckless attitude and his disdain for authority.

Pierce thrived during his service to the Emperor's Wrath and even led a successful operation capturing the Bastion on Corellia. But when the Wrath vanished, the Moffs decided a war hero like Pierce was too valuable to lose in combat. They promoted him, then reassigned him to a desk job at the Outreach Bureau, where he could act as an idol for the new recruits, much to Pierce's chagrin.
Attributes
NPC reference:
Pierce
Category:
As a contact: Alliance Recruit
As a companion: Alliance
Equipment slots:
Main hand: ranged weapon
No off-hand
Gender:
male
Max influence rank:
50
Influence cap:
250,000
Travel to companion
If you meet this condition, you'll be able to travel to this companion at the given location.
Interactions
Here you can see how your decisions influence your companion, once their respective condition is met. Make sure to choose wisely because they will affect you later on in the story!
interaction_01:


You found Major Pierce on Dromund Kaas. You convinced Major Pierce to join your alliance through victories against the Republic.

interaction_02:


You found Major Pierce on Dromund Kaas. You convinced Major Pierce to join your alliance.
Used in conditions
This companion is referenced in the following conditions to check if the condition is met.
Gift reactions
Use gifts to increase your influence with this companion. Make sure to use gifts loved by the companion for the highest influence gain!
| Type | Reaction |
| --- | --- |
| Weapon | Love ++++ |
| Military Gear | Love ++++ |
| Courting | Indifferent |
| Luxury | Indifferent |
| Technology | Like ++ |
| Republic Memorabilia | Like ++ |
| Imperial Memorabilia | Like ++ |
| Cultural Artifact | Indifferent |
| Trophy | Favorite +++ |
| Underworld Good | Like ++ |
| Delicacies | Favorite +++ |
| Maintenance | Indifferent |