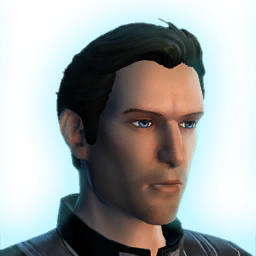 Malavai Quinn
The Staunch Imperial
An officer in the Imperial military, Malavai Quinn is loyal to the Empire and everything it stands for. When his career was abruptly halted by a mysterious disgrace, he served the powerful Sith Lord known as the Emperor's Wrath. Quinn later betrayed the Wrath at the command of his true master, Darth Baras. The Wrath ultimately forgave his crimes, and Quinn vowed to earn back their trust by helping overthrow Darth Baras.

When the Wrath went missing at the start of the Zakuul invasion, Quinn's rescue efforts ended with him imprisoned by enemies within the Sith Empire. Empress Acina restored him to service and groomed him to serve her as advisor and confidante.
Attributes
NPC reference:
Quinn
Category:
As a contact: Unavailable Companions
As a companion: War for Iokath
Equipment slots:
Main hand: ranged weapon
No off-hand
Gender:
male
Max influence rank:
50
Influence cap:
250,000
Interactions
Here you can see how your decisions influence your companion, once their respective condition is met. Make sure to choose wisely because they will affect you later on in the story!
Used in conditions
This companion is referenced in the following conditions to check if the condition is met.
Gift reactions
Use gifts to increase your influence with this companion. Make sure to use gifts loved by the companion for the highest influence gain!
| Type | Reaction |
| --- | --- |
| Weapon | Favorite +++ |
| Military Gear | Love ++++ |
| Courting | Like ++ |
| Luxury | Indifferent |
| Technology | Like ++ |
| Republic Memorabilia | Indifferent |
| Imperial Memorabilia | Love ++++ |
| Cultural Artifact | Indifferent |
| Trophy | Like ++ |
| Underworld Good | Indifferent |
| Delicacies | Indifferent |
| Maintenance | Indifferent |
Appearance