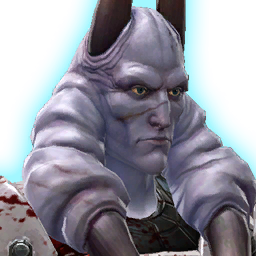 Provost Marshal Rusk
The Hardened Veteran
Raised by a colony of pacifist Chagrians, Rusk rebelled against his family's beliefs and enlisted with the Republic military as soon as he could. At first, he proved to be a brilliant soldier and was identified as a rising star in the Republic's ranks. Somewhere along the way, however, his bravery crossed the line into recklessness.
Attributes
NPC reference:
Provost Marshal Rusk
Category:
As a contact: Alliance Recruit
As a companion: Alliance
Equipment slots:
Main hand: ranged weapon
No off-hand
No head slot
Gender:
male
Max influence rank:
50
Influence cap:
250,000
Travel to companion
If you meet this condition, you'll be able to travel to this companion at the given location.
Interactions
Here you can see how your decisions influence your companion, once their respective condition is met. Make sure to choose wisely because they will affect you later on in the story!
Used in conditions
This companion is referenced in the following conditions to check if the condition is met.
Gift reactions
Use gifts to increase your influence with this companion. Make sure to use gifts loved by the companion for the highest influence gain!
| Type | Reaction |
| --- | --- |
| Weapon | Favorite +++ |
| Military Gear | Love ++++ |
| Courting | Indifferent |
| Luxury | Like ++ |
| Technology | Like ++ |
| Republic Memorabilia | Favorite +++ |
| Imperial Memorabilia | Like ++ |
| Cultural Artifact | Like ++ |
| Trophy | Like ++ |
| Underworld Good | Indifferent |
| Delicacies | Indifferent |
| Maintenance | Indifferent |
Appearance