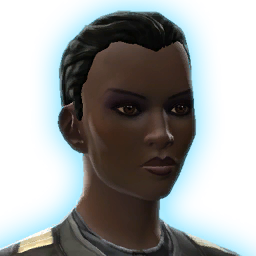 Raina Temple
The Astute Officer
Resourceful, cunning, and loyal, Raina Temple strives to be the ideal officer. When her latent Force-sensitivity manifested as a child, her Imperial Agent father sent her to the Chiss Ascendancy to hide from the Sith and suppress her abilities. Temple eventually joined the Chiss Expansionary Defense Force, and later the crew of the infamous Cipher Nine.

When Cipher Nine disappeared during the war with the Eternal Empire, Temple rejoined the Ascendancy and trained Chiss agents in Imperial espionage tactics. At the same time, she used the Ascendancy's resources to track down her former mentor.
Attributes
NPC reference:
Raina Temple
Category:
As a contact: Unavailable Companions
As a companion: Traitor Among the Chiss
Equipment slots:
Main hand: range weapon
Off-hand: range weapon
Gender:
female
Max influence rank:
50
Influence cap:
250,000
Interactions
Here you can see how your decisions influence your companion, once their respective condition is met. Make sure to choose wisely because they will affect you later on in the story!
Gift reactions
Use gifts to increase your influence with this companion. Make sure to use gifts loved by the companion for the highest influence gain!
| Type | Reaction | Romanced reaction |
| --- | --- | --- |
| Weapon | Like ++ | |
| Military Gear | Favorite +++ | |
| Courting | Like ++ | Love ++++ |
| Luxury | Like ++ | |
| Technology | Indifferent | |
| Republic Memorabilia | Like ++ | |
| Imperial Memorabilia | Love ++++ | |
| Cultural Artifact | Indifferent | |
| Trophy | Indifferent | |
| Underworld Good | Indifferent | |
| Delicacies | Indifferent | |
| Maintenance | Indifferent | |