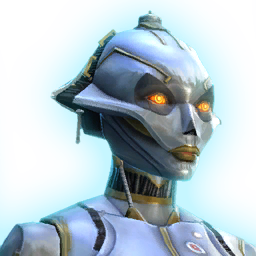 SCORPIO
The Evolving AI
SCORPIO is an enhanced artificial intelligence who claims to have been designed for heuristic self-improvement by unknown parties. Her current chassis is of recent design, suggesting multiple precursor bodies or an independent database. Over a century ago, SCORPIO became involved with the Star Cabal organization and accepted guardianship of Megasecurity Ward 23 on Belsavis. In return for rare technology, SCORPIO willingly acted as the Star Cabal's security system until application of control codes by Cipher Nine.

After Cipher Nine's disappearance, SCORPIO assumed a new identity as an information broker on Zakuul: the Lady of Sorrows. Her slicing skills and ruthless tactics quickly garnered the Lady both a reputation in the Old World and the attention of the Knights of Zakuul. Despite her growing list of enemies, SCORPIO remained one step ahead of her pursuers, moving her base of operations from neighborhood to neighborhood before settling in Breaktown. Although she clearly holds a grudge against Arcann, she keeps her motivations and long-term plans to herself.
Attributes
NPC reference:
SCORPIO
Category:
Chapters
Equipment slots:
Main hand: ranged weapon
No off-hand
No outfit slots
Gender:
female
Max influence rank:
50
Influence cap:
250,000
Interactions
Here you can see how your decisions influence your companion, once their respective condition is met. Make sure to choose wisely because they will affect you later on in the story!
Used in conditions
This companion is referenced in the following conditions to check if the condition is met.
Gift reactions
Use gifts to increase your influence with this companion. Make sure to use gifts loved by the companion for the highest influence gain!
| Type | Reaction |
| --- | --- |
| Weapon | Favorite +++ |
| Military Gear | Like ++ |
| Courting | Indifferent |
| Luxury | Indifferent |
| Technology | Love ++++ |
| Republic Memorabilia | Indifferent |
| Imperial Memorabilia | Indifferent |
| Cultural Artifact | Like ++ |
| Trophy | Like ++ |
| Underworld Good | Indifferent |
| Delicacies | Indifferent |
| Maintenance | Love ++++ |