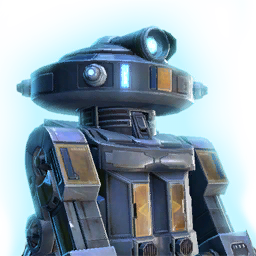 T7-01
The Steadfast Companion
Little is known about T7 before the droid came into the service of the Jedi. Certain features of its construction hint at it being a custom model built some time ago, but there are no official records to substantiate the theory. Regardless of its origins, the droid's enthusiasm and willingness to put itself in harm's way leave little doubt as to its loyalty.

Despite T7's ties to the Republic, the droid readily agreed to work with Sith Lord Lana Beniko after Arcann attacked the Core Worlds and its master went missing. Because of T7's unthreatening appearance, it's often overlooked, making the droid a perfect informant and ally in the fight against the Eternal Empire.
Attributes
NPC reference:
T7-O1
Category:
As a contact: Alliance Recruit
As a companion: Chapters
Equipment slots:
Main hand: ranged weapon
No off-hand
No outfit slots
Gender:
male
Max influence rank:
50
Influence cap:
250,000
Used in conditions
This companion is referenced in the following conditions to check if the condition is met.
Gift reactions
Use gifts to increase your influence with this companion. Make sure to use gifts loved by the companion for the highest influence gain!
| Type | Reaction |
| --- | --- |
| Weapon | Like ++ |
| Military Gear | Like ++ |
| Courting | Indifferent |
| Luxury | Indifferent |
| Technology | Love ++++ |
| Republic Memorabilia | Favorite +++ |
| Imperial Memorabilia | Indifferent |
| Cultural Artifact | Favorite +++ |
| Trophy | Indifferent |
| Underworld Good | Indifferent |
| Delicacies | Indifferent |
| Maintenance | Favorite +++ |
Appearance