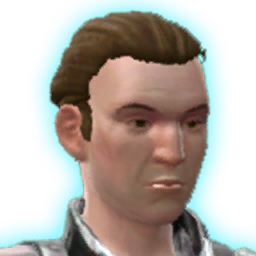 Talos Drellik
The Quirky Archaeologist
Unlike many Imperial Reclamation Service officers who are career soldiers with only a passing interest in history, Lieutenant Drellik throws himself into his work, studying with experts in the field such as the illustrious Professor Auselio Gann and galactic historian Deravon Wells. To Talos, the Imperial Reclamation Service does an invaluable job, preserving Imperial and Sith history against the onslaught of time.

Talos's skills as an archeologist were first noticed by the Dark Council when he served the councilor in charge of the sphere of ancient knowledge. After his master disappeared, the Council ordered him to return to the Reclamation Service to lead an expedition on Yavin 4.
Attributes
NPC reference:
Talos Drellik
Category:
As a contact: Alliance Recruit
As a companion: Alliance
Equipment slots:
Main hand: ranged weapon
No off-hand
Gender:
male
Max influence rank:
50
Influence cap:
250,000
Travel to companion
If you meet this condition, you'll be able to travel to this companion at the given location.
Interactions
Here you can see how your decisions influence your companion, once their respective condition is met. Make sure to choose wisely because they will affect you later on in the story!
Used in conditions
This companion is referenced in the following conditions to check if the condition is met.
Gift reactions
Use gifts to increase your influence with this companion. Make sure to use gifts loved by the companion for the highest influence gain!
| Type | Reaction |
| --- | --- |
| Weapon | Indifferent |
| Military Gear | Indifferent |
| Courting | Like ++ |
| Luxury | Favorite +++ |
| Technology | Like ++ |
| Republic Memorabilia | Favorite +++ |
| Imperial Memorabilia | Love ++++ |
| Cultural Artifact | Love ++++ |
| Trophy | Indifferent |
| Underworld Good | Indifferent |
| Delicacies | Indifferent |
| Maintenance | Indifferent |
Appearance