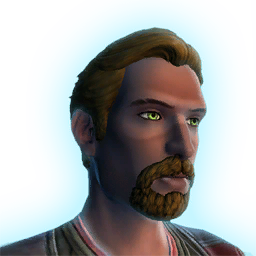 Tharan Cedrax
Although not a household name, Tharan Cedrax is well known in several circles. In the casinos of Nar Shaddaa, he is cursed as a card-counting mathematical genius. To the eligible women of the galaxy, he is a famous charmer who sees rejection as an intriguing challenge. Among technologists, he earned accolades for solving a technical paradox that revolutionized computer slicing; despite his achievements, however, Tharan isn't taken seriously by the galaxy's scientific community, which looks down on him as a playboy rather than a serious researcher.

In recent years, Tharan has taken an interest in "exo-technology," an almost unknown field involving esoteric alien sciences, and gone into business making custom gadgets for wealthy clients. Often accompanied by his lovely holographic companion, Holiday, Tharan has spent his credits freely, enjoying the very best Nar Shaddaa has to offer while staying just shy of its dangers.

Likes: Cleverness, logical thinking, aiding scientists and beautiful women, getting something for nothing
Dislikes: Mystical Jedi nonsense, Force Persuade, destroying science, heroism that involves danger
Attributes
NPC reference:
Tharan
Category:
As a contact: Unavailable Companions
As a companion: Alliance
Equipment slots:
Main hand: ranged weapon
No off-hand
Gender:
male
Max influence rank:
50
Influence cap:
250,000
Interactions
Here you can see how your decisions influence your companion, once their respective condition is met. Make sure to choose wisely because they will affect you later on in the story!
recruited_tharan_cedrax:


Tharan Cedrax has returned to you and joined your Alliance after helping on the development of the Meridian Complex.

rejected_tharan_cedrax:


After reconnecting with Tharan Cedrax at the Meridian Complex, you've decided he has no place in your Alliance.
Used in conditions
This companion is referenced in the following conditions to check if the condition is met.
Gift reactions
Use gifts to increase your influence with this companion. Make sure to use gifts loved by the companion for the highest influence gain!
| Type | Reaction |
| --- | --- |
| Weapon | Indifferent |
| Military Gear | Indifferent |
| Courting | Like ++ |
| Luxury | Love ++++ |
| Technology | Favorite +++ |
| Republic Memorabilia | Indifferent |
| Imperial Memorabilia | Indifferent |
| Cultural Artifact | Like ++ |
| Trophy | Indifferent |
| Underworld Good | Like ++ |
| Delicacies | Indifferent |
| Maintenance | Indifferent |
Appearance