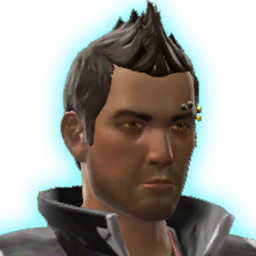 Theron Shan
The Secret Agent
Some are driven to follow in their parents' footsteps, while others loathe the very idea. For Theron Shan, it's a moot point. In keeping with Jedi strictures against attachment, Theron's mother, Grand Master Satele Shan, sent her infant son to be raised by the Jedi who trained her, Master Ngani Zho. When it became evident that Theron was not Force sensitive, he abandoned any notion of becoming a Jedi. He joined the Strategic Information Service, using his adventurous nature and unique skillset to become a trusted field agent for the Republic.

Despite his success against the Revanites, Theron was put on administrative leave after Master Satele and Chancellor Saresh discovered he sent a team of black-ops Jedi to Ziost without their knowledge. Arcann's invasion of the Core Worlds accelerated his reinstatement into the SIS, but Saresh's policies frustrated him. When Lana Beniko approached him with a plan to build an alliance against Arcann, Theron was happy to walk away and fight what he considered the real threat to the galaxy.
Attributes
NPC reference:
Theron Shan
Category:
Main Characters
Equipment slots:
Main hand: range weapon
Off-hand: range weapon
Gender:
male
Max influence rank:
50
Influence cap:
250,000
Alerts
This companion will have the following missions available for you as soon as their condition is met.
Interactions
Here you can see how your decisions influence your companion, once their respective condition is met. Make sure to choose wisely because they will affect you later on in the story!
romancing_theron:


You have begun a romantic relationship with Theron.

break_up:


With the return of your former romance, you and Theron have decided to end your relationship.
Used in conditions
This companion is referenced in the following conditions to check if the condition is met.
Gift reactions
Use gifts to increase your influence with this companion. Make sure to use gifts loved by the companion for the highest influence gain!
| Type | Reaction | Romanced reaction |
| --- | --- | --- |
| Weapon | Like ++ | |
| Military Gear | Indifferent | |
| Courting | Indifferent | Love ++++ |
| Luxury | Like ++ | |
| Technology | Love ++++ | |
| Republic Memorabilia | Indifferent | |
| Imperial Memorabilia | Indifferent | |
| Cultural Artifact | Like ++ | |
| Trophy | Like ++ | |
| Underworld Good | Favorite +++ | |
| Delicacies | Indifferent | |
| Maintenance | Indifferent | |