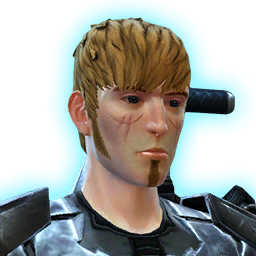 Torian Cadera
Last of Clan Cadera
Loyalty, honor, tradition: Torian Cadera embodies the Mandalorian ideals. He serves his leaders with a fierce allegiance, yet the shadow of his father's defection to the Republic has hung over him for most of his life. As a result, Torian's relationship with his fellow Mandalorians is complicated, and he's had to prove himself time and again to overcome the Cadera stigma. But those who could look past his family found a noble warrior who eventually joined forces with the Grand Champion of the Great Hunt.

When the Grand Champion went missing after the rise of Zakuul, Torian returned to the Mandalorians and volunteered for the most dangerous strikes against the Eternal Fleet, leading successful infiltration and surveillance missions. His skill and dedication let him rise in the ranks and gain the trust of Mandalore the Avenger herself, earning him a place by her side.
Attributes
NPC reference:
Torian
Category:
Chapters
Equipment slots:
Main hand: ranged weapon
No off-hand
Gender:
male
Max influence rank:
50
Influence cap:
250,000
Alerts
This companion will have the following missions available for you as soon as their condition is met.
Interactions
Here you can see how your decisions influence your companion, once their respective condition is met. Make sure to choose wisely because they will affect you later on in the story!
Used in conditions
This companion is referenced in the following conditions to check if the condition is met.
Gift reactions
Use gifts to increase your influence with this companion. Make sure to use gifts loved by the companion for the highest influence gain!
| Type | Reaction | Romanced reaction |
| --- | --- | --- |
| Weapon | Favorite +++ | |
| Military Gear | Favorite +++ | |
| Courting | Indifferent | Favorite +++ |
| Luxury | Indifferent | |
| Technology | Like ++ | |
| Republic Memorabilia | Indifferent | |
| Imperial Memorabilia | Indifferent | |
| Cultural Artifact | Like ++ | |
| Trophy | Love ++++ | |
| Underworld Good | Like ++ | |
| Delicacies | Indifferent | |
| Maintenance | Indifferent | |