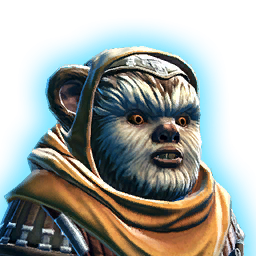 Treek
The Unlikely Mercenary
Treek is an enthusiastic warrior who defied her primitive tribe's rigid customs to seek adventure among the stars. Dissatisfied with the peaceful and quiet ways of her people, Treek is determined to achieve great things with her life. She travels the galaxy as a mercenary soldier, always on the hunt for new horizons and epic challenges to conquer. Despite hailing from a technologically-archaic planet and species, Treek has adapted quickly to civilized space.

Treek is unconcerned with material possessions or personal power. Her only goal is to forge a legacy that will outlive her. In Treek's mind, the greatest defeat is to be forgotten. She will do whatever it takes to ensure her name and deeds will be celebrated long after she is gone.
Attributes
NPC reference:
Treek
Category:
As a contact: Unavailable Companions
As a companion: Cartel Market
Equipment slots:
Main hand: ranged weapon
No off-hand
No outfit slots
Gender:
female
Max influence rank:
50
Influence cap:
250,000
Metadata
Added with:
Patch 4.0.0
Global ID:
16141121016191470744
FQN:
nco.companions_updated.treek_rep_updated
Star Wars name:
Treek
Other languages:
Treek
Treek
Other sites:
TORCommunity
Used in conditions
This companion is referenced in the following conditions to check if the condition is met.
Gift reactions
Use gifts to increase your influence with this companion. Make sure to use gifts loved by the companion for the highest influence gain!
| Type | Reaction |
| --- | --- |
| Weapon | Like ++ |
| Military Gear | Like ++ |
| Courting | Indifferent |
| Luxury | Indifferent |
| Technology | Love ++++ |
| Republic Memorabilia | Indifferent |
| Imperial Memorabilia | Indifferent |
| Cultural Artifact | Indifferent |
| Trophy | Favorite +++ |
| Underworld Good | Indifferent |
| Delicacies | Indifferent |
| Maintenance | Indifferent |
Appearance