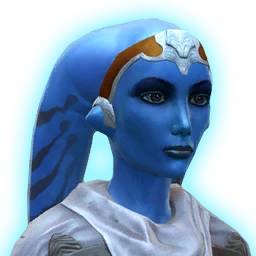 Vette
The Tomb Robber
A Twi'lek born into slavery on the planet Ryloth, Vette escaped a life of servitude to become an accomplished rogue and treasure hunter. She spent time in her youth stealing for the notorious crime lord Nok Drayen before going into business for herself after his death. Too daring for her own good, she managed to breach Imperial defenses and sneak onto Korriban, gaining entry to the most sacred Sith tombs before getting caught. Her second stint in slavery landed her in the service of the Emperor's Wrath, who she followed on a violent path of revenge.

When the Wrath went missing at the start of the Zakuul invasion, Vette pulled a few odd jobs before joining up with roguish smuggler Gault Rennow. The duo scammed their way through the galaxy, making credits and enemies wherever they went.
Attributes
NPC reference:
Vette
Category:
Chapters
Equipment slots:
Main hand: range weapon
Off-hand: range weapon
Gender:
female
Max influence rank:
50
Influence cap:
250,000
Interactions
Here you can see how your decisions influence your companion, once their respective condition is met. Make sure to choose wisely because they will affect you later on in the story!
Used in conditions
This companion is referenced in the following conditions to check if the condition is met.
Gift reactions
Use gifts to increase your influence with this companion. Make sure to use gifts loved by the companion for the highest influence gain!
| Type | Reaction | Romanced reaction |
| --- | --- | --- |
| Weapon | Like ++ | |
| Military Gear | Indifferent | |
| Courting | Like ++ | Love ++++ |
| Luxury | Like ++ | Favorite +++ |
| Technology | Like ++ | |
| Republic Memorabilia | Like ++ | |
| Imperial Memorabilia | Like ++ | |
| Cultural Artifact | Favorite +++ | |
| Trophy | Indifferent | |
| Underworld Good | Love ++++ | |
| Delicacies | Indifferent | |
| Maintenance | Indifferent | |