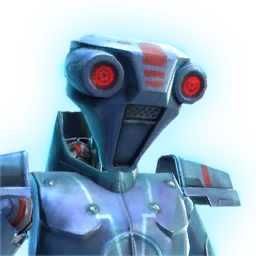 2V-R8
2V-R8 is a Seneschal-series factotum droid outfitted to serve the galaxy's most dangerous individuals. Due to experiences with previous masters, he knows that any moment of weakness or failure could easily result in his permanent deactivation, and he has therefore created multiple subroutines to reroute all his processing capabilities, maximizing his efficiency when seeing to whatever single task his master has assigned him. Despite the constant fear of destruction hanging over his head, 2V-R8 makes every effort to appear professional and composed. He has activated numerous crisis-management programming modules to assist him with handling the stress on his processors. So far, his power core has overheated only once.
Attributes
NPC reference:
2V-R8
Category:
As a contact: Unavailable Companions
As a companion: Alliance
Equipment slots:
Main hand: ranged weapon
No off-hand
No outfit slots
Gender:
male
Max influence rank:
50
Influence cap:
250,000
Gift reactions
Use gifts to increase your influence with this companion. Make sure to use gifts loved by the companion for the highest influence gain!
| Type | Reaction |
| --- | --- |
| Weapon | Indifferent |
| Military Gear | Indifferent |
| Courting | Indifferent |
| Luxury | Like ++ |
| Technology | Favorite +++ |
| Republic Memorabilia | Indifferent |
| Imperial Memorabilia | Like ++ |
| Cultural Artifact | Love ++++ |
| Trophy | Indifferent |
| Underworld Good | Indifferent |
| Delicacies | Indifferent |
| Maintenance | Love ++++ |
Appearance