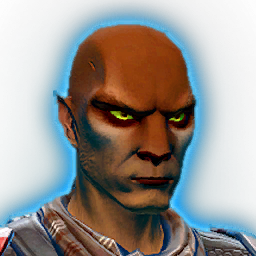 Aric Jorgan
The Loyal Soldier
A natural soldier, Aric Jorgan enlisted in the military at an early age and quickly distinguished himself as a talented marksman. He earned a reputation as a demanding, unwavering leader and patriot, and there is little he wouldn't do to protect those under his command. This same dedication served him well when he assisted a young lieutenant in rebuilding the famed Havoc Squad, winning major victories for the Republic.
When his commanding officer went missing in action at the start of the Eternal Empire's invasion, Jorgan assumed leadership of Havoc Squad. He was conflicted: he loved the Republic but disagreed with its willingness to kneel to Zakuul. Determined to protect the Republic in spite of itself, he began leading Havoc on unsanctioned strike missions deep in Zakuul territory.
Attributes
NPC reference:
Aric Jorgan
Category:
Chapters
Equipment slots:
Main hand: ranged weapon
No off-hand
Gender:
male
Max influence rank:
50
Influence cap:
250,000
Interactions
Here you can see how your decisions influence your companion, once their respective condition is met. Make sure to choose wisely because they will affect you later on in the story!
Used in conditions
This companion is referenced in the following conditions to check if the condition is met.
Gift reactions
Use gifts to increase your influence with this companion. Make sure to use gifts loved by the companion for the highest influence gain!
| Type | Reaction | Romanced reaction |
| --- | --- | --- |
| Weapon | Love ++++ | |
| Military Gear | Favorite +++ | |
| Courting | Indifferent | Favorite +++ |
| Luxury | Indifferent | |
| Technology | Like ++ | |
| Republic Memorabilia | Like ++ | |
| Imperial Memorabilia | Indifferent | |
| Cultural Artifact | Like ++ | |
| Trophy | Like ++ | |
| Underworld Good | Indifferent | |
| Delicacies | Indifferent | |
| Maintenance | Indifferent | |
Appearance