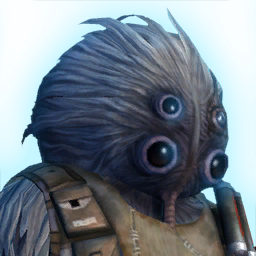 Broonmark
The Untamed Warrior
Broonmark is a unique creature among the Talz. While his peers spent their youths learning survival skills and playing on the frozen tundra of Alzoc Three, Broonmark developed a fascination with death. As a child, Broonmark watched his father killed by one of Alzoc Three's predators, and instead of sadness, Broonmark felt only shame at his father's weakness. Violence became an obsession and point of pride for Broonmark; he started hunting in secret and lived for the rush of a kill.

When the Republic began recruiting Talz for their elite commando units, Broonmark eagerly volunteered for the chance to turn his claws against more challenging prey. But with each kill, Broonmark's desire for carnage and bloodshed intensified. His clan soon challenged his brutal leadership, and Broonmark watched in anger as the gentle Talz he fought to empower mutinied against him.
Attributes
NPC reference:
Broonmark
Category:
As a contact: Alliance Recruit
As a companion: Alliance
Equipment slots:
Main hand: melee weapon
No off-hand
No outfit slots
Gender:
male
Max influence rank:
50
Influence cap:
250,000
Travel to companion
If you meet this condition, you'll be able to travel to this companion at the given location.
Interactions
Here you can see how your decisions influence your companion, once their respective condition is met. Make sure to choose wisely because they will affect you later on in the story!
Used in conditions
This companion is referenced in the following conditions to check if the condition is met.
Gift reactions
Use gifts to increase your influence with this companion. Make sure to use gifts loved by the companion for the highest influence gain!
| Type | Reaction |
| --- | --- |
| Weapon | Love ++++ |
| Military Gear | Like ++ |
| Courting | Indifferent |
| Luxury | Indifferent |
| Technology | Favorite +++ |
| Republic Memorabilia | Favorite +++ |
| Imperial Memorabilia | Like ++ |
| Cultural Artifact | Like ++ |
| Trophy | Love ++++ |
| Underworld Good | Indifferent |
| Delicacies | Indifferent |
| Maintenance | Indifferent |