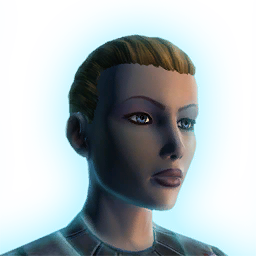 Elara Dorne
The Perfect Soldier
A highly talented field medic, Elara Dorne was born Imperial and served in the Empire's military for two years before defecting to the Republic. She has since served with distinction as a search-and-rescue squad leader before being recruited to join Havoc Squad, an elite Special Forces unit sworn to protect the Republic.

When the Commander of Havoc Squad went missing at the start of the Zakuul invasion, Elara Dorne searched tirelessly for them before being forcibly removed from Havoc. Thanks to her flawless operational record, she was selected to advise Supreme Commander Malcom, head of the Republic military.
Attributes
NPC reference:
Elara Dorne
Category:
As a contact: Unavailable Companions
As a companion: War for Iokath
Equipment slots:
Main hand: ranged weapon
No off-hand
Gender:
female
Max influence rank:
50
Influence cap:
250,000
Alerts
This companion will have the following missions available for you as soon as their condition is met.
Interactions
Here you can see how your decisions influence your companion, once their respective condition is met. Make sure to choose wisely because they will affect you later on in the story!
Used in conditions
This companion is referenced in the following conditions to check if the condition is met.
Gift reactions
Use gifts to increase your influence with this companion. Make sure to use gifts loved by the companion for the highest influence gain!
| Type | Reaction | Romanced reaction |
| --- | --- | --- |
| Weapon | Indifferent | |
| Military Gear | Favorite +++ | |
| Courting | Indifferent | Love ++++ |
| Luxury | Favorite +++ | |
| Technology | Like ++ | |
| Republic Memorabilia | Love ++++ | |
| Imperial Memorabilia | Love ++++ | |
| Cultural Artifact | Indifferent | |
| Trophy | Indifferent | |
| Underworld Good | Indifferent | |
| Delicacies | Indifferent | |
| Maintenance | Indifferent | |
Appearance