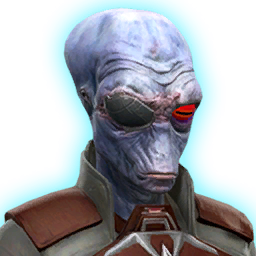 Fen Zeil
The Shadow of the Underworld
One of the most notorious figures in the galaxy's underworld, Fen Zeil has occupied numerous ranks in many syndicates, including the Black Sun, the Hutt Cartel, and the Exchange. Possessing an incredible skill with blasters, those who cross Fen often disappear without a trace, earning him the moniker "The Shadow."

In recent years, Fen has set his sights on larger goals, creating--and intensifying--tensions between Fen and numerous organizations throughout the galaxy. In response, he has begun seeking out high-profile allies....
Attributes
NPC reference:
Fen Zeil
Category:
Rewards
Equipment slots:
Main hand: range weapon
Off-hand: range weapon
No outfit slots
Gender:
male
Max influence rank:
50
Influence cap:
250,000
Interactions
Here you can see how your decisions influence your companion, once their respective condition is met. Make sure to choose wisely because they will affect you later on in the story!
Used in conditions
This companion is referenced in the following conditions to check if the condition is met.
Gift reactions
Use gifts to increase your influence with this companion. Make sure to use gifts loved by the companion for the highest influence gain!
| Type | Reaction |
| --- | --- |
| Weapon | Indifferent |
| Military Gear | Indifferent |
| Courting | Indifferent |
| Luxury | Indifferent |
| Technology | Indifferent |
| Republic Memorabilia | Indifferent |
| Imperial Memorabilia | Indifferent |
| Cultural Artifact | Indifferent |
| Trophy | Indifferent |
| Underworld Good | Indifferent |
| Delicacies | Indifferent |
| Maintenance | Indifferent |