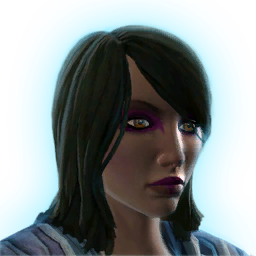 Jaesa Willsaam
The Corrupted Apprentice
Originally from Alderaan, Jaesa was a former Jedi Padawan who possessed tremendous strength in the Force, including the unique ability to discern a person's true nature and intentions. She was a firm believer in the Jedi Order until she met the Emperor's Wrath, after which the flaws and shortcomings of the Jedi were finally exposed to her. She joined the Emperor's Wrath as their Sith Apprentice and embraced the dark side, travelling the galaxy to carry out the Emperor's will.

After the disappearance of her master and the Eternal Empire's subsequent invasion, Jaesa carried on alone, her power in the dark side growing as her hatred and feelings of abandonment festered.
Attributes
NPC reference:
Jaesa Willsaam
Category:
As a contact: Unavailable Companions
As a companion: Alliance
Equipment slots:
Main hand: melee weapon
No off-hand
Gender:
female
Max influence rank:
50
Influence cap:
250,000
Interactions
Here you can see how your decisions influence your companion, once their respective condition is met. Make sure to choose wisely because they will affect you later on in the story!
Used in conditions
This companion is referenced in the following conditions to check if the condition is met.
Gift reactions
Use gifts to increase your influence with this companion. Make sure to use gifts loved by the companion for the highest influence gain!
| Type | Reaction | Romanced reaction |
| --- | --- | --- |
| Weapon | Love ++++ | |
| Military Gear | Like ++ | |
| Courting | Indifferent | |
| Luxury | Favorite +++ | Love ++++ |
| Technology | Indifferent | |
| Republic Memorabilia | Indifferent | |
| Imperial Memorabilia | Like ++ | |
| Cultural Artifact | Indifferent | |
| Trophy | Favorite +++ | |
| Underworld Good | Indifferent | |
| Delicacies | Indifferent | |
| Maintenance | Indifferent | |
Appearance