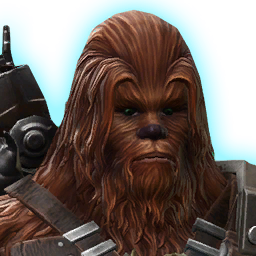 Jakarro
A Wookiee and his Droid
Brazen, quick-tempered, and completely fearless, Jakarro is a larger-than-life Wookiee mercenary who travels the galaxy in search of adventure and profit along with his translator droid C2-D4... at least, what's left of him. Most of D4 has been ripped off bit by bit whenever he annoyed Jakarro over the years; the droid's head and a few other vital elements are the only pieces left now, strapped to Jakarro's body armor and going wherever the Wookiee goes.
Attributes
NPC reference:
Jakarro
Category:
3599878378750254
Equipment slots:
Main hand: ranged weapon
No off-hand
No outfit slots
Gender:
male
Max influence rank:
50
Influence cap:
250,000
Interactions
Here you can see how your decisions influence your companion, once their respective condition is met. Make sure to choose wisely because they will affect you later on in the story!
recruited_jakarro:


After they aided in your mission on Onderon, you invited Jakarro and C2-D4 to join your Alliance.

rejected_jakarro:


Although they aided in your mission on Onderon, you chose not to recruit Jakarro and C2-D4 into your Alliance.
Used in conditions
This companion is referenced in the following conditions to check if the condition is met.
Gift reactions
Use gifts to increase your influence with this companion. Make sure to use gifts loved by the companion for the highest influence gain!
| Type | Reaction |
| --- | --- |
| Weapon | Favorite +++ |
| Military Gear | Like ++ |
| Courting | Like ++ |
| Luxury | Love ++++ |
| Technology | Like ++ |
| Republic Memorabilia | Indifferent |
| Imperial Memorabilia | Indifferent |
| Cultural Artifact | Favorite +++ |
| Trophy | Love ++++ |
| Underworld Good | Like ++ |
| Delicacies | Favorite +++ |
| Maintenance | Indifferent |