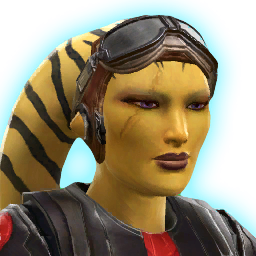 Major Anri
Raven Squad Commander
The advancement of non-humans in the ranks of the Sith Empire's military has been slow but steady since the reforms first put forth by Darth Malgus and continued by Darth Marr. It is now estimated that up to eight percent of the Imperial military is staffed by non-humans; among the highest-ranking of these is the Twi'lek ex-slave Anri, who serves as a major in command of a prestigious Special Forces uni: Raven Squad.

Anri views her advancement in the meritocratic terms of the Sith Empire at large; one's power and standing rises as they prove their superiority by overcoming the threats and impediments facing them. Her skillful leadership and gallows humor have made her popular with her fellow troops, and while her outspokenness has led some officers and Sith to question her dedication, her troops know firsthand that her determination to see the Sith Empire triumph over all foes is absolute.
Attributes
NPC reference:
Major Anri
Category:
Jedi Under Siege
Equipment slots:
Main hand: ranged weapon
No off-hand
No outfit slots
Gender:
female
Max influence rank:
25
Influence cap:
62,500
Used in conditions
This companion is referenced in the following conditions to check if the condition is met.
Gift reactions
Use gifts to increase your influence with this companion. Make sure to use gifts loved by the companion for the highest influence gain!
| Type | Reaction | Romanced reaction |
| --- | --- | --- |
| Weapon | Favorite +++ | |
| Military Gear | Favorite +++ | |
| Courting | Indifferent | Favorite +++ |
| Luxury | Indifferent | |
| Technology | Like ++ | |
| Republic Memorabilia | Indifferent | |
| Imperial Memorabilia | Indifferent | |
| Cultural Artifact | Like ++ | |
| Trophy | Love ++++ | |
| Underworld Good | Like ++ | |
| Delicacies | Indifferent | |
| Maintenance | Indifferent | |