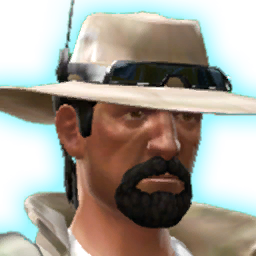 Nico Okarr
The Infamous Smuggler
Years before the Sith Empire launched the Great Galactic War, Nico was one of the most celebrated mercenary spacers on the Outer Rim. His deeds were legendary, but so were his debts, leading him to take the most high-risk and even-higher-reward underworld contracts available. Every criminal syndicate from the Hutt Cartel down competed for his services because he always delivered the goods, no matter the odds. Ultimately, that was his undoing. When the Jedi Order assigned astromech droid T7-O1 to an undercover sting operation as Nico's co-pilot on the Redshifter, events conspired to place everyone on Korriban just in time for the Sith Empire's devastating return to Republic space. Nico personally saved Satele Shan and fled the Imperial Fleet to warn Coruscant of the danger--and promptly escaped custody never to be seen again... until now.
Attributes
NPC reference:
Nico Okarr
Category:
Rewards
Equipment slots:
Main hand: range weapon
Off-hand: range weapon
No outfit slots
Gender:
male
Max influence rank:
50
Influence cap:
250,000
Travel to companion
If you meet this condition, you'll be able to travel to this companion at the given location.
Interactions
Here you can see how your decisions influence your companion, once their respective condition is met. Make sure to choose wisely because they will affect you later on in the story!
Used in conditions
This companion is referenced in the following conditions to check if the condition is met.
Gift reactions
Use gifts to increase your influence with this companion. Make sure to use gifts loved by the companion for the highest influence gain!
| Type | Reaction |
| --- | --- |
| Weapon | Indifferent |
| Military Gear | Indifferent |
| Courting | Like ++ |
| Luxury | Favorite +++ |
| Technology | Favorite +++ |
| Republic Memorabilia | Like ++ |
| Imperial Memorabilia | Like ++ |
| Cultural Artifact | Like ++ |
| Trophy | Like ++ |
| Underworld Good | Love ++++ |
| Delicacies | Indifferent |
| Maintenance | Indifferent |