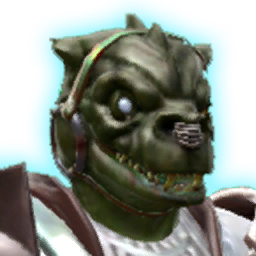 Qyzen Fess
The Faithful Hunter
In contrast to many Trandoshans, Qyzen Fess rejected the path of a mercenary to become a hunter of the galaxy's most dangerous beasts. Earning "Jagannath points" with every honorable kill, he has traveled for years, seeking worthy prey and honoring his goddess, the Scorekeeper. His simple habits and devotion give him common ground with the Jedi, though many disapprove of the attitudes and instincts that come naturally to a Trandoshan.

Qyzen believed the Barsen'thor was the Scorekeeper's Herald and was the Jedi's loyal companion for many years. During the hunt for the Sith Emperor, Barsen'thor disappeared, leading Qyzen to believe his master had been called to the Scorekeeper's side, and he was left to return to the hunt alone.
Attributes
NPC reference:
Qyzen Fess
Category:
As a contact: Alliance Recruit
As a companion: Alliance
Equipment slots:
Main hand: melee weapon
No off-hand
No head slot
Gender:
male
Max influence rank:
50
Influence cap:
250,000
Travel to companion
If you meet this condition, you'll be able to travel to this companion at the given location.
Interactions
Here you can see how your decisions influence your companion, once their respective condition is met. Make sure to choose wisely because they will affect you later on in the story!
Used in conditions
This companion is referenced in the following conditions to check if the condition is met.
Gift reactions
Use gifts to increase your influence with this companion. Make sure to use gifts loved by the companion for the highest influence gain!
| Type | Reaction |
| --- | --- |
| Weapon | Love ++++ |
| Military Gear | Favorite +++ |
| Courting | Indifferent |
| Luxury | Indifferent |
| Technology | Like ++ |
| Republic Memorabilia | Indifferent |
| Imperial Memorabilia | Indifferent |
| Cultural Artifact | Indifferent |
| Trophy | Indifferent |
| Underworld Good | Like ++ |
| Delicacies | Indifferent |
| Maintenance | Indifferent |