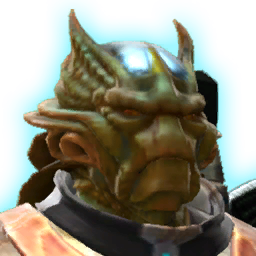 Rokuss
The Honorable Warrior
Gormak have battled both Republic and Imperial forces on Voss since the day they made it their business to interfere with the ancient war for control of the planet. While most Gormak still bear a grudge against all outsiders, a few forward-thinking individuals have realized that the new invaders from Zakuul are a far greater threat to Voss.

Rokuss is a hardened Gormak warrior who has looked beyond his people's traditional hatreds and united with old foes to defeat the Eternal Empire. He saw his older brothers fall in battle to the Alliance Commander years before the rise of Emperor Arcann. Where some would swear a blood oath of vengeance, Rokuss took the lesson that not all battles are worth fighting--and his brothers chose their enemy especially poorly. He now offers his services as soldier and bodyguard to the same Commander who killed his kin. In Rokuss's eyes, helping to defeat the Eternal Empire at the Commander's side is an honorable way to settle the family debt.
Attributes
NPC reference:
Rokuss
Category:
Star Fortress
Equipment slots:
Main hand: ranged weapon
No off-hand
No outfit slots
Gender:
male
Max influence rank:
50
Influence cap:
250,000
Alerts
This companion will have the following missions available for you as soon as their condition is met.
Travel to companion
If you meet this condition, you'll be able to travel to this companion at the given location.
Interactions
Here you can see how your decisions influence your companion, once their respective condition is met. Make sure to choose wisely because they will affect you later on in the story!
Used in conditions
This companion is referenced in the following conditions to check if the condition is met.
Gift reactions
Use gifts to increase your influence with this companion. Make sure to use gifts loved by the companion for the highest influence gain!
| Type | Reaction |
| --- | --- |
| Weapon | Like ++ |
| Military Gear | Like ++ |
| Courting | Indifferent |
| Luxury | Indifferent |
| Technology | Favorite +++ |
| Republic Memorabilia | Indifferent |
| Imperial Memorabilia | Indifferent |
| Cultural Artifact | Indifferent |
| Trophy | Love ++++ |
| Underworld Good | Indifferent |
| Delicacies | Indifferent |
| Maintenance | Indifferent |