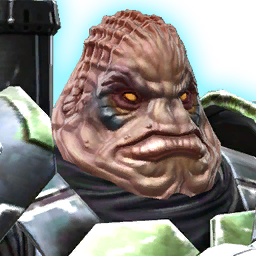 Skadge
The Ruthless Criminal
A career gangster and psychopath, Skadge had been enjoying a prestigious position at the top of Coruscant's most wanted list when a joint police, military and SIS task force managed to finally capture him. Deemed impossible to control or reform, the murderous Houk was secretly ushered to the only facility capable of housing him: Belsavis.
Attributes
NPC reference:
Skadge
Category:
As a contact: Alliance Recruit
As a companion: Alliance
Equipment slots:
Main hand: melee weapon
No off-hand
No head slot
Gender:
male
Max influence rank:
50
Influence cap:
250,000
Travel to companion
If you meet this condition, you'll be able to travel to this companion at the given location.
Interactions
Here you can see how your decisions influence your companion, once their respective condition is met. Make sure to choose wisely because they will affect you later on in the story!
Used in conditions
This companion is referenced in the following conditions to check if the condition is met.
Gift reactions
Use gifts to increase your influence with this companion. Make sure to use gifts loved by the companion for the highest influence gain!
| Type | Reaction |
| --- | --- |
| Weapon | Love ++++ |
| Military Gear | Favorite +++ |
| Courting | Indifferent |
| Luxury | Like ++ |
| Technology | Indifferent |
| Republic Memorabilia | Indifferent |
| Imperial Memorabilia | Indifferent |
| Cultural Artifact | Indifferent |
| Trophy | Like ++ |
| Underworld Good | Love ++++ |
| Delicacies | Indifferent |
| Maintenance | Indifferent |
Appearance