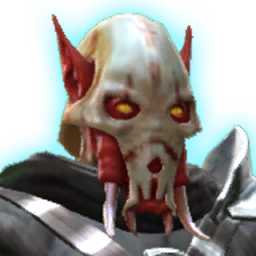 Xalek
The Ruthless Avenger
A Kaleesh warrior captured by the Empire in battle and brought to Korriban to train as a Sith, Xalek prefers actions to words. Before even reaching the Academy, he killed several of his fellow slaves who were also intended for training--a bold statement by any measure. Xalek melds his training as a Kaleesh warrior with a firm belief in the Sith Code. He kills without remorse and is an expert student of lightsaber technique and martial combat.

Xalek left Korriban to become an apprentice to a Dark Council member, whom he served until his master's untimely disappearance. He took advantage of the chaos from the Eternal Empire's invasion to hone his skills and grow his power. After being given the title of Sith Lord, he decided to travel the galaxy to test himself in new ways.
Attributes
NPC reference:
Xalek
Category:
As a contact: Alliance Recruit
As a companion: Alliance
Equipment slots:
Main hand: melee weapon
No off-hand
No head slot
Gender:
male
Max influence rank:
50
Influence cap:
250,000
Travel to companion
If you meet this condition, you'll be able to travel to this companion at the given location.
Interactions
Here you can see how your decisions influence your companion, once their respective condition is met. Make sure to choose wisely because they will affect you later on in the story!
Used in conditions
This companion is referenced in the following conditions to check if the condition is met.
Gift reactions
Use gifts to increase your influence with this companion. Make sure to use gifts loved by the companion for the highest influence gain!
| Type | Reaction |
| --- | --- |
| Weapon | Love ++++ |
| Military Gear | Love ++++ |
| Courting | Indifferent |
| Luxury | Indifferent |
| Technology | Indifferent |
| Republic Memorabilia | Indifferent |
| Imperial Memorabilia | Indifferent |
| Cultural Artifact | Indifferent |
| Trophy | Favorite +++ |
| Underworld Good | Like ++ |
| Delicacies | Indifferent |
| Maintenance | Indifferent |