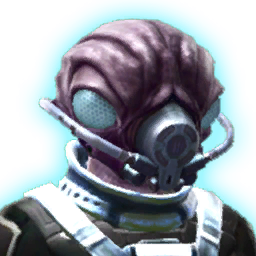 Yuun
The Findsman Engineer
Even in an organization as diverse as the Republic Army, Yuun stands out. A member of the Gand species, Yuun is a Findsman, a shamanistic tracker held in very high regard among his people. He applies his unusual training to technical tasks of every kind, resulting in a success record unmatched by any other technician in the military.

As effective as his methods are, they rarely meet with understanding or approval from his fellow soldiers, but he found a home in Havoc Squad. When his commanding officer went missing, Yuun searched Wild Space for a year, finding nothing. Saddened by his friend's apparent death, he left the Republic military to study the technology of Zakuul and follow a new path.
Attributes
NPC reference:
Yuun
Category:
As a contact: Alliance Recruit
As a companion: Other Followers
Equipment slots:
Main hand: melee weapon
No off-hand
No head slot
Gender:
male
Max influence rank:
50
Influence cap:
250,000
Metadata
Added with:
Patch 4.0.0
Global ID:
16141033443075364882
FQN:
nco.​companions_updated.​yuun_updated
Star Wars name:
Yuun
Other languages:
Yuun
Yuun
Other sites:
TORCommunity
Travel to companion
If you meet this condition, you'll be able to travel to this companion at the given location.
Interactions
Here you can see how your decisions influence your companion, once their respective condition is met. Make sure to choose wisely because they will affect you later on in the story!
initial_meeting:


You met Yuun on Zakuul. He asked for your help in gathering materials for a prototype device.

yuun_recruited:


Yuun eagerly joined you as a follower after you helped him complete the device he was building.

yuun_device:


Yuun gave his device to your alliance, allowing it to hide its base from Zakuulian long range scanners.
Used in conditions
This companion is referenced in the following conditions to check if the condition is met.
Gift reactions
Use gifts to increase your influence with this companion. Make sure to use gifts loved by the companion for the highest influence gain!
| Type | Reaction |
| --- | --- |
| Weapon | Like ++ |
| Military Gear | Favorite +++ |
| Courting | Indifferent |
| Luxury | Indifferent |
| Technology | Love ++++ |
| Republic Memorabilia | Like ++ |
| Imperial Memorabilia | Like ++ |
| Cultural Artifact | Favorite +++ |
| Trophy | Love ++++ |
| Underworld Good | Indifferent |
| Delicacies | Indifferent |
| Maintenance | Indifferent |