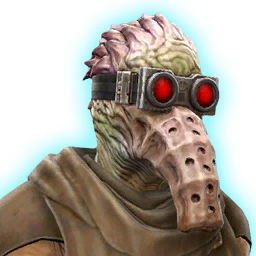 Altuur zok Adon
The Stranger from Kubindi
It is unknown what pulled Altuur zok Adon away from the caverns of Kubindi--the Kubaz homeworld--where he was raised. In fact, little is known about Altuur at all, other than the fact that he is a masterfully skilled sniper who appears to value art and literature.

Truthfully blunt but exceedingly secretive, the stranger from Kubindi may not freely offer details about himself, but he will gladly offer assistance to those who ask for it.
Attributes
NPC reference:
Altuur zok Adon
Category:
3599878378750255
Equipment slots:
Main hand: ranged weapon
No off-hand
Gender:
male
Max influence rank:
50
Influence cap:
250,000
Used in conditions
This companion is referenced in the following conditions to check if the condition is met.
Gift reactions
Use gifts to increase your influence with this companion. Make sure to use gifts loved by the companion for the highest influence gain!
| Type | Reaction |
| --- | --- |
| Weapon | Indifferent |
| Military Gear | Indifferent |
| Courting | Indifferent |
| Luxury | Indifferent |
| Technology | Indifferent |
| Republic Memorabilia | Indifferent |
| Imperial Memorabilia | Indifferent |
| Cultural Artifact | Indifferent |
| Trophy | Indifferent |
| Underworld Good | Indifferent |
| Delicacies | Indifferent |
| Maintenance | Indifferent |