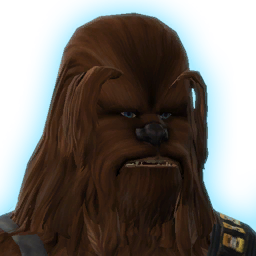 Bowdaar
The Wookiee Gladiator
The mighty Wookiee gladiator named Bowdaar has spent over a century facing countless opponents without ever losing a match. He solidified his title as the galaxy's greatest gladiator when he defeated notorious Wookiee-hunter Karssk on Ord Mantell. The more gullible underworld scum whisper that Bowdaar is an immortal creature who can't be killed, but those who have faced him and lived know that he is simply the best there is.

On the surface, Bowdaar may seem like a simple-minded brute, but nothing could be further from the truth. Case in point: Bowdaar eventually discovered the identity of the Trandoshans who first captured and enslaved him. One night in an arena on Loovria, Bowdaar learned that his former captors were sitting in the stands. An unfortunate "weapons malfunction" caused the drunken Trandoshan slavers to meet an untimely--and extremely messy--end.
Attributes
NPC reference:
Bowdaar
Category:
As a contact: Alliance Recruit
As a companion: Alliance
Equipment slots:
Main hand: melee weapon
No off-hand
No outfit slots
Gender:
male
Max influence rank:
50
Influence cap:
250,000
Travel to companion
If you meet this condition, you'll be able to travel to this companion at the given location.
Interactions
Here you can see how your decisions influence your companion, once their respective condition is met. Make sure to choose wisely because they will affect you later on in the story!
Used in conditions
This companion is referenced in the following conditions to check if the condition is met.
Gift reactions
Use gifts to increase your influence with this companion. Make sure to use gifts loved by the companion for the highest influence gain!
| Type | Reaction |
| --- | --- |
| Weapon | Favorite +++ |
| Military Gear | Like ++ |
| Courting | Like ++ |
| Luxury | Love ++++ |
| Technology | Like ++ |
| Republic Memorabilia | Indifferent |
| Imperial Memorabilia | Indifferent |
| Cultural Artifact | Favorite +++ |
| Trophy | Love ++++ |
| Underworld Good | Like ++ |
| Delicacies | Favorite +++ |
| Maintenance | Indifferent |